Okay so I get this questions A LOT. I should have made this along time ago!! I don't blame people who ask me, when I first started drinking Shakeology I literally poured it into a cup with water and drank it and thought OH MY GOD what is that lol. It takes some time, some research to perfect the most AMAZING Chocolate Shakeology RECIPE in the WORLD!!! Okay  I am being dramatic, but honestly this tastes like a Reeses Peanut Butter Cup with the nutritional value of 6 SALADS… Yes 6 Salads. So here you go, the recipe is below. Pucker up, drink up and ENJOY!!!!!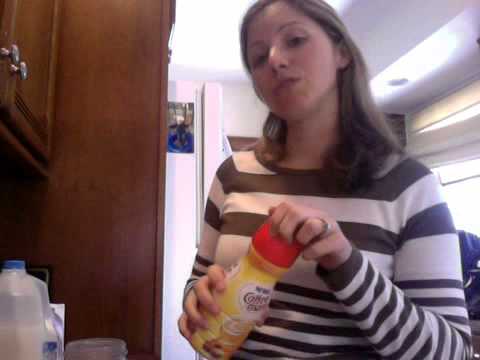 Recipe/My Logic: I hate counting calories as you can tell in the video. Haha. I think thats why I never did well with Weight Watchers and all that point crap. I mean I have totally have done that before and liked the food but trying to figure out what my pts where it made me just want MORE pts!!  So anyways I DO not count my calories for the day, but I do know this is about 350 calories. Shakeology itself is 170 calories, 2.5 grams of fat, 5grams of fiber and 16 grams of protein. Adding Milk, Granola or Peanut Butter packs in about 150 more calories but I need that to keep full till lunch so I highly suggest adding in the extra calories taste wise!!! I prefer a Magic Bullet smaller blender for a few reason. One I can drink it in the car when I bring my kids to preschool or where ever and its pretty easy to make one serving. Sometimes I use a blender because the kids and my husband are always stealing this.
1 handful of Ice
1 Cup Chocolate Shakeology Vegan/or Regular
1/2 Cup Almond Milk/or regular
1/3 Cup Bear Naked Maple Pecan Pure & Natural Granola
'Dash' of Hazel Nut Coffee Creamer
Direction: Blend well in a magic bullet or blender. Drink. Enjoy and get going!